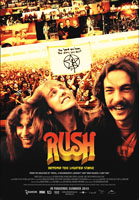 Time to start talking about
Rush
again. Today was the one and only American screening of
Beyond the Lighted Stage
, the Rush documentary. I, for one, am glad I was smart enough to pre-order tickets online. When Spock and I got to the theater, the show was sold out. There were maybe three seats left by the time everyone got there. I severely underestimated Rush's impact on northeastern Illinois, I guess. There were so many of us! But, in retrospect [pun intended], I'm not all that surprised. The movie was great. It's not getting that great of reviews, but then, Rush never has. And they make a point of saying that. Giving
Beyond the Lighted Stage
bad reviews is along the same lines as burning copies of
Fahrenheit 451
; the action only serves to drive home the point that the movie/book is making.
But, back to humor. I've never been in a theater that was so... loud! Well, apart from Rocky Horror and Repo! shows. But those are meant to be especially raucous. This was like going to a concert. Which reminds me... Spock and I decided to split the cost of tickets to one of the shows Rush is doing in Chicago. This morning I found tickets on
Ticketmaster
that are $49.50 each, which, while it might sound expensive to some, are the cheapest tickets I have
ever
seen for a Rush concert. Ahhhh... Now that that's over with, I have a little bit more to discuss about the movie. Okay,
Jack Black
is great and all, in his own right, but I really didn't want to see him in his usual semi-retarded state in a movie about my favorite band. He's more of an irritant than an actor. Other than that, most of the people who were interviewed behaved fairly well. And the home videos and childhood pictures that were shown were practically a treasure unto themselves. We got to see Rush perform when they were younger than I am, in basements and bars. Not basement bars, though; at least, I don't think so. Sorry, no more puns.
The musical selection was good, although most of the tunes are the same few songs that show up on every greatest hits album Rush has ever made-- Chronicles, the Retrospectives, et cetera. I think that, with the extensive catalog Rush has put together, there could have been a lot more deep tracks. After all, this is a movie made for Rush fans, by, presumably, Rush fans. With that, I present to you my suggestions for...
15 Rush Songs that Should have been Included in Beyond the Lighted Stage
Alphabetized, in order to avoid a ruckus
1.
Available Light, from Presto
2.
Chemistry, from Signals
3.
Cinderella Man, from A Farewell to Kings
4.
Different Strings, from Permanent Waves
5.
Digital Man, from Signals
6.
Here Again, from Rush
7.
Hope, from Snakes and Arrows
- Spock and I were sad that our song wasn't included
8.
I Think I'm Going Bald, from Caress of Steel
9.
Leave That Thing Alone!, from Counterparts
10.
Madrigal, from A Farewell to Kings
11.
Mission, from Hold Your Fire
12.
Resist, from Test for Echo
13.
Summertime Blues, from Feedback
14.
Tears, from 2112
15.
Vital Signs, from Moving Pictures
And
some
Lerxst
rants!
That last one is totally worth the wait
So, apart from Jack Black and a lack of deep-cut tracks--wow, that's a lot of rhymes-- I absolutely adored
Beyond the Lighted Stage
. And I can't wait for the VH1 premiere on June 26th, so I can watch it again!
~Sushi